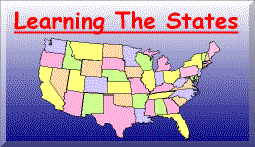 Our Geography Product uses multimedia to help students learn about United States place names, locations, and other interesting information. It includes these activities: 1) Locate the States, 2) Name the States, 3) Capitol(ize) the States, 4) Cruise the states - contains information about each state. 5) Spell the States, and 6) Spell the Capitals.
With each program, you receive a CD containing the complete program and administrative support. Complete Teacher's Resource Guides are available for download from our web site. We are sure you will find these programs are effective, but in case you don't, they come with a 30-day money back guarantee.
Our products are currently available on the PC platform running Windows 3.1®, Windows 95®, or Windows 98®. The minimum requirement to run our software is a 486 or faster processor with 4 megabytes of RAM, 10 megabytes of hard drive space, a 2x or faster CD-ROM drive, a sound card and speakers.